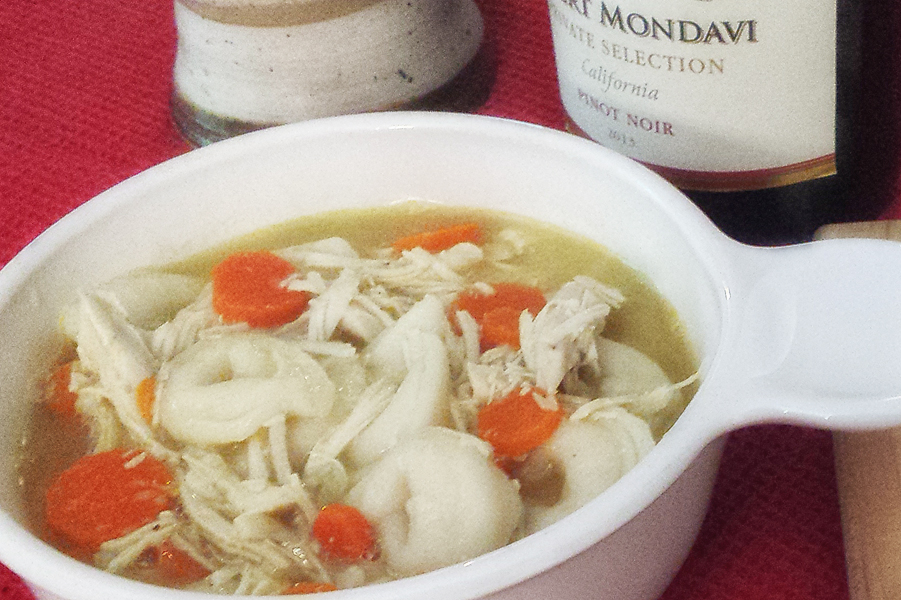 Winter is the perfect time to make a soup. Who doesn't like soup? When you are cold, soup warms you and makes you feel good. This delicious soup is very easy to make.  It is an excellent choice to serve at a gathering of family or friends. Everyone will be wanting more of this tasty meal.
Ingredients
2 whole organic chicken breasts  with the bone in
3 (32 Fl oz) containers of organic chicken broth
1 small head of organic garlic.
8 organic carrots
1 ½ packages of organic tortellini
½ organic parmesan cheese rind
Organic black pepper
Cook the two whole organic chicken breasts with the bone in.  It can be made the day before the soup. When the organic chicken is cool enough to handle, remove the skin and meat from the organic chicken breast. Pull 1 ½ organic chicken breasts apart in strips. Store the other breast in a covered glass container to be used if there is any left over soup.
Remove all the husks from the organic garlic and chop it up into small pieces. Add organic garlic to large pot. Heat for a few minutes on med high stirring occasionally. Do not let the garlic brown.  It should be a little opague.
Add the pulled apart organic chicken into a large pot  Continue heating with the garlic for a few more minutes
Add the three containers of organic chicken broth to the pot with the organic chicken breast and organic garlic. Add the half of organic parmesan cheese rind and the organic pepper to taste. Place large pot on burner and set to high heat.
Peel and discard the top and bottom of the organic carrots. Slice carrots and set aside for later.
Once the soup boils turn to low heat and simmer for about half an hour. After the half hour bring back to a boil. Add organic carrots and organic tortellini. Bring back to a boil and cook for about 6 minutes.
Serve immediately. Add freshly grated organic parmesan cheese over individual bowls of soup. Serve with some nice hot bread. Add a side salad along with a plate of sliced apples. You will have a nutritious, delicious meal for all to appreciate.
Enjoy!